Texas' Premier, gay, clothing-optional campground
Based in Navasota, TX, we are an independently owned, clothing-optional gay campground proudly serving the gay community, for MEN ONLY. We as the owners, are proud to say that we will strive to make this campground a great place for gay men to come relax and have a good time in a great piney woods atmosphere. Despite our name, we aren't just for bears 😉.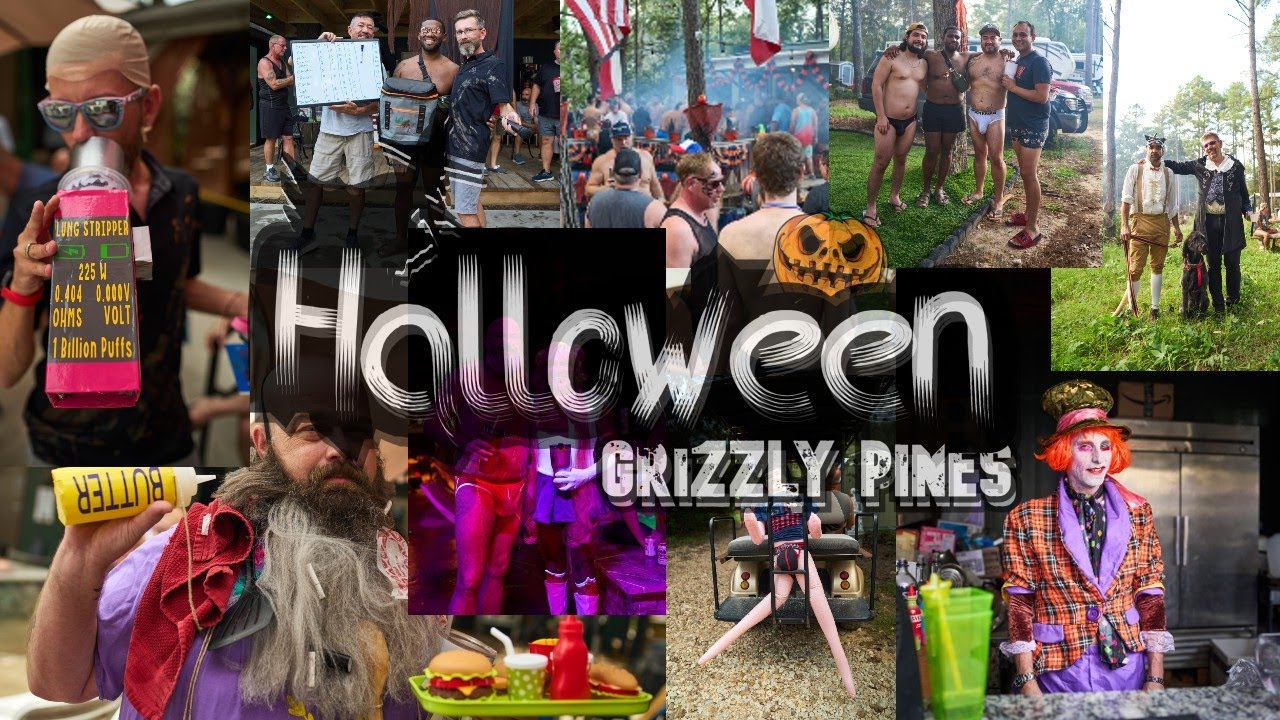 We are constantly doing events here at Grizzly Pines. There's something for everyone here!
Don't be fooled by the name, it's not just a taco truck. You can find good old fashioned, home-style cooking here.
Breakfast Burritos, Sausage Gravy and Biscuits...
Burger Baskets, Chicken Tender Baskets, Grilled Cheese, Brisket Sandwiches... etc.
Also specials, i.e. Po-Boy sandwiches
Need a Massage during your stay with us?
Meet Billy Jordan, he's one of our on site licensed massage therapists. Contact him by text (214) 984-2141. Friday-Sunday.
We have different levels of interenet available using our fiberoptic service which we beam accross to different areas of the campground. Tell us what your needs are and we'll advise how we can accommodate.

We have bathrooms and showers for your use.

We have charcoal grills in various spots around the camprground, just ask. We also sell charcoal.

We sell ice for $2.50 for a 10 lb. bag. We sell firewood for $15 / 15 pc bundle. We have lockers available for you guys who are coming for the day - $2.
It's made by LumberJack - 8 oz. bottle - 95% organic - water based - edible safe - long lasting - ask about it when you get here or maybe a camper who has already used it!
We are very proud of the testimonials we receive from our clients.
"...I owe so much to this business. I met my now partner here Labor Day weekend of 2018. The culture of the campground that the staff & owners have fostered is truly beautiful - accepting, non-judgmental, and truly welcoming.

Since my first time in 2016, the growth has been phenomenal! As of September of 2020, they have an incredible pool & hot tub, accompanied by beautiful cabanas for you to relax under whilst out of the pool. An amazing restaurant ran by Randy, where he is always happy to whip you up something delicious. Nice facilities with toilets/showers, laundry, firepits, and so much more!

The owners are Jim, Connor, and Rigo, three of the most incredibly hardworking, down to earth guys you could ever meet.

Steven is a "jack of all trades" staff member, that you will never catch sitting down. A really hard-worker, and resident Spice Girl enthusiast.

The camp itself is nestled within a forest of Pines, just far enough into the country that you can avoid the stressors & business of large cities, but a short drive from a couple of good restaurants/stores/gas stations. Very scenic location, having lived in a small town of 922 for 24 years of my life until moving to Houston, it is so refreshing to walk amongst the trees (on some of their awesome trails) and feel my soul being renewed.

There's always something going on as well - wether it's a fun event weekend, filled with socials, potlucks, games, etc., or a nice non-event weekend by the pool/fire with friends (old and the ones you just haven't made yet.)

So to whomever maybe reading this, that may be nervous about attending, I can only offer that this campground has brought me so much happiness and growth since I first attended in 2016, and if you give it a chance, I know it will do the same for you!

I'm kind of lousy at writing reviews, but that's all I can think of for now. I will amend the review if I think of anything else!"

I spent a week here and had so much fun! Very friendly guests! The owners were awesome and constantly working their butts off maintaining and improving the grounds. I highly recommend this place if your looking for a low key vacation with lots of fun to be had! I hope to be back soon!

This is absolutely my favorite campground ever!

1. The hosts are the sweetest and most accommodating guys.

2. You can be nude everywhere which is just the best. Haven't found that anywhere else in Texas ye

t

.

3. The people who go are so chill and nice! You never see cliques or anything like that! Everyone just gets along it's a super cool atmosphere.

And honestly what the boys here have created is something truly special you just have to go and experience this spot! Trust me. You'll always want to go back.

Danny.
You may already know Daniel, but did you know he can make wedding cakes, birthday cakes, or cookies for a special occasion? Book with Grizzly Pines and order from Edible Elegance to make your stay extra special. After booking, simply email your request and he'll make it happen.
SAINT FRANCIS WOLF SANCTUARY
Local to our area, less than 7 miles from Grizzly Pines is a wolf santuary home to 16 wolves from all over the country. Help us support them by donating through their website here. →
https://saintfranciswolfsanctuary.org/
We will also be doing a Fajita Fundraiser in conjunction with Randy's Big Gay Taco & Whiskey Tango at Whiskey Tango on March 25th, 2023. You can come and have a plate with us or buy a virtual plate as well. See flyer
here.
We proudly partner with Megaflix in our camp store supplying all your adult-oriented clothing & toys. They have jockstraps, underwear, fetish gear, head cleaner, etc.
Check out Terry's custom made leather goods in our camp store.
He's got us covered on Grizzly Pines swag 👌
Details for our donor brick program
4x8 Brick - $125 - up to 4 lines, 21 characters each line
8x8 Brick - $200 - up to 8 lines, 21 characters each line
Bench - $600 - up to 4 lines, 40 characters each line